Once you feel like you have mastered the skin care basics like SPF and layering serums correctly, you will probably realise that there's still plenty more to learn. Facial tools are one area we recommend diving into! Reason being, they can massively upgrade and contribute to your skin routine. 
Long gone are the days when using strange, yet intriguing looking beauty tools were reserved for the dermatologists' office. With the power of the internet and innumerable Youtube tutorials, all the information you need is available in the palm of your hands, especially when it comes to tools for skincare. While you may be familiar with these tools, it might get confusing when it comes to keeping track of which one has maximum advantages and benefits for your particular skin concern. 
Here, we're introducing you to some facial tools we think deserve a place in your regimen, from face rollers that will plump, massage and rejuvenate your skin to brushes that will keep you squeaky clean. As your beauty BFFs, we will help you pick the right tool FOR YOU depending on your skin concern. Excited? Read on… 
Gua Shas for Facelifts 
One of the most followed traditional Chinese healing and relaxing therapies that took the internet by storm - Gua Sha, has fast become a skincare essential for us. Gua sha literally translates - "to scrape sand" and is a great way to contour your face and tighten your skin for a natural facelift. It also improves blood flow to your face and gets rid of excess fluid, puffiness, and dark circles around your eyes. 
Face Rollers to De-Puff your Face
Chances are, even if you don't know much about facial tools, you definitely must have seen jade face rollers all over your social media feed. This skincare tool deserves all the love and praise that it has been garnering. Rollers are facial massage tools with stones that soothe and smooth your skin and aid with lymphatic drainage to reduce puffiness on your face. Just apply a few drops of your favourite facial oil and roll the jade roller in an upward motion on your face and neck and see it work its magic on your skin. 
These stone tools work at an "energetic" level. The energy within the crystals has the power to heal and transform your skin while dealing with issues like:
Redness

Inflammation

Breakouts

Fine Lines
The minerals found in the crystals may even have anti-inflammatory or anti-bacterial properties which help in:
Getting rid of dead skin cells 

Removing impurities

Improving skin texture

Promoting a clearer, brighter complexion.

Lymphatic Drainage
Here are some common types of Gua Shas and Face Rollers.
Jade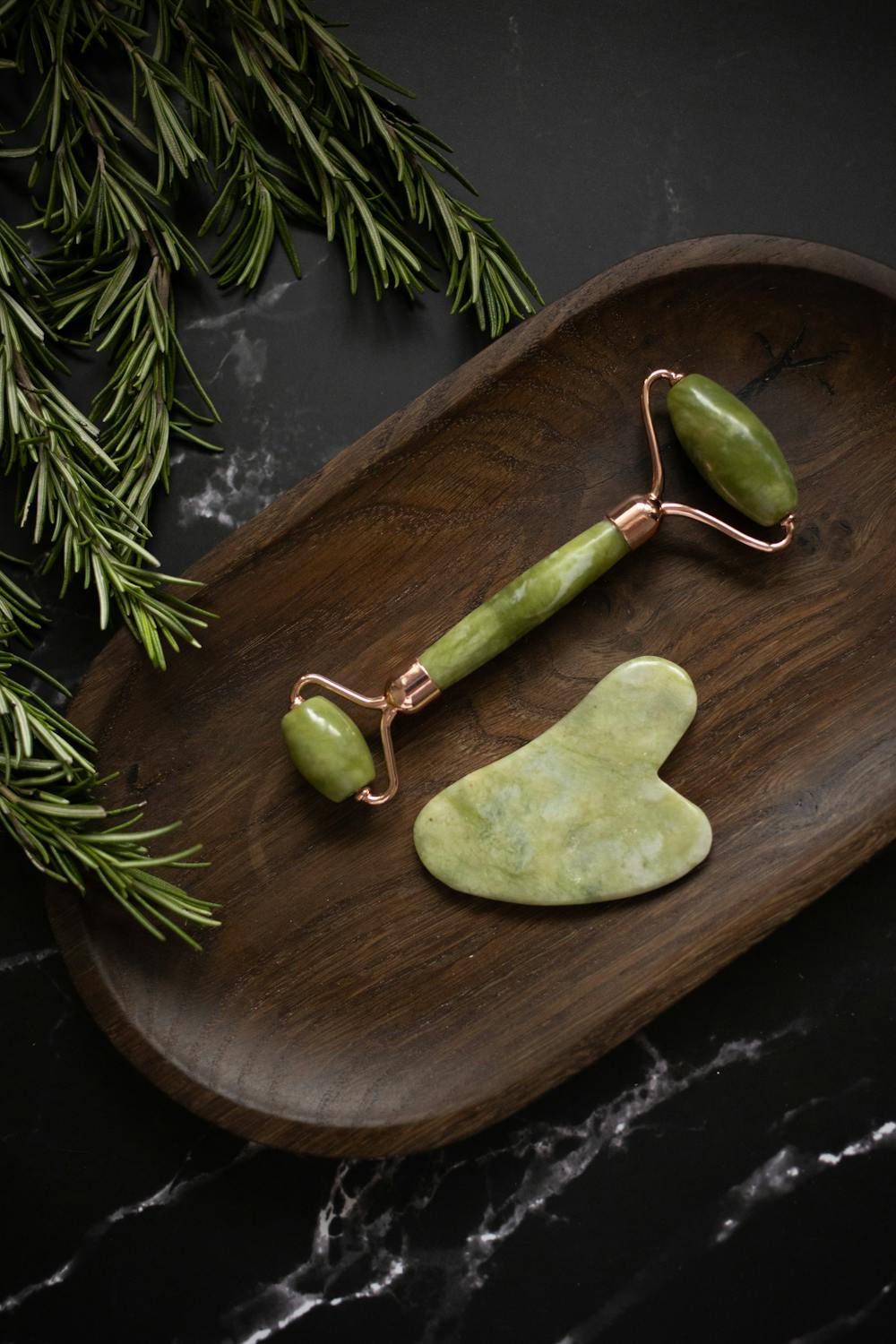 Jade is believed to be a calming stone. It soothes irritation and is a great tool for sensitive skin. Made from solid jade, this greenish stone is known to have a cooling effect on the skin. An excellent stimulation for lymphatic drainage, jade rollers and gua shas are excellent at instantly soothing skin and reducing inflammation. Using it regularly can help get rid of wrinkles and blemishes on the face. 
Try using your Jade skin tool with Rosehip or Sunflower seed oil to feed your skin barrier with exactly what it needs to stay calm, soft, and protected while your skin regenerates.
Rose Quartz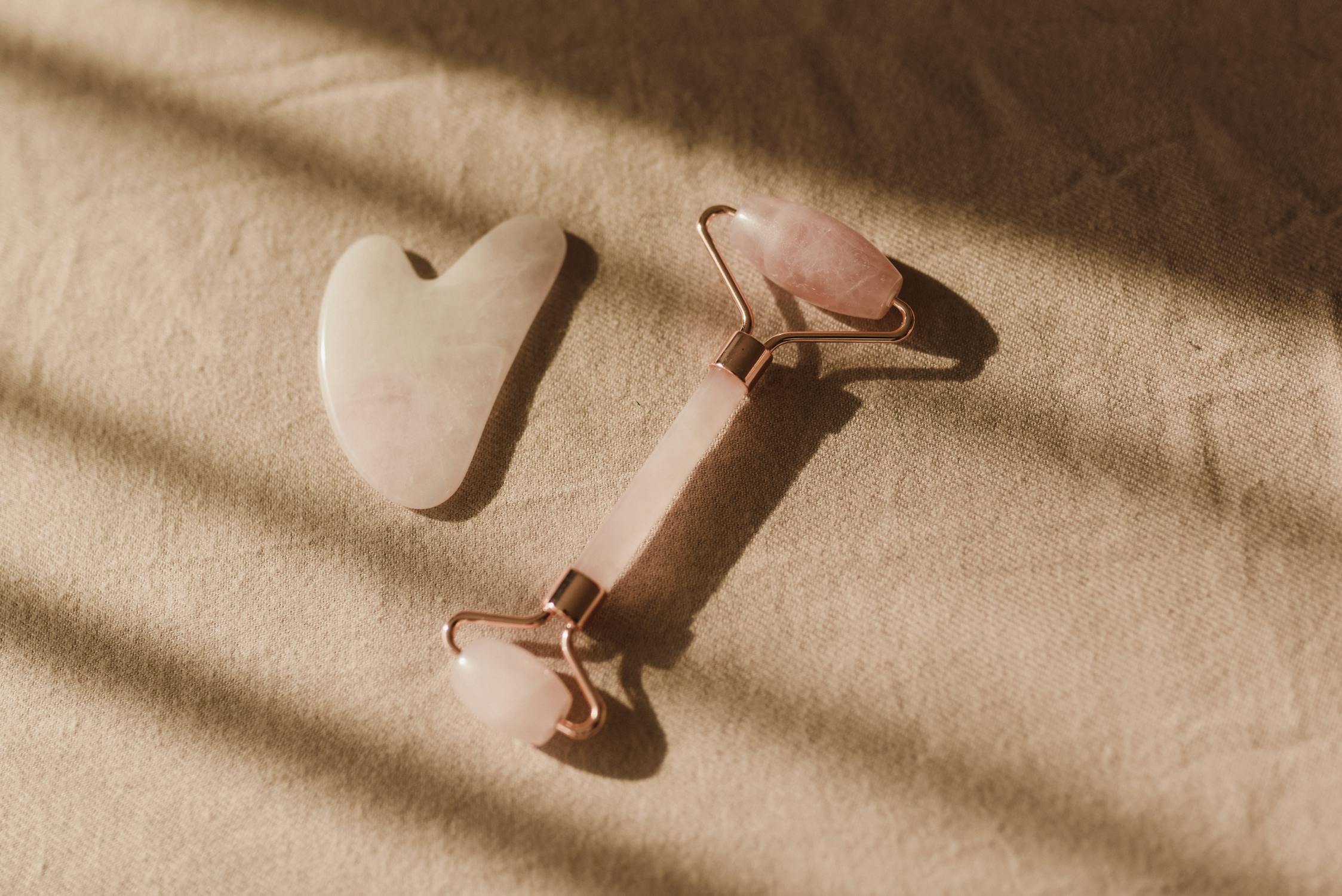 Rose quartz face tools have been all the rage in 2022. Extracts of rose quartz can even be found in creams and serums. Connect with yourself, enhance your feeling of self love as you cool and calm your skin. Rose Quartz is unique in its ability to hold temperature - hot as well as cold. So when you feel like indulging in a face massage that lasts longer than just a few minutes, a rose quartz roller is ideal. It also holds the unique ability to drain out toxins that have accumulated on your face. It also has healing properties that can release stress and negativity. 
Use your favourite Ilana serum with a Rose Quartz roller or gua sha to let it seep deep into your skin for maximum penetration and benefits. 
Black Obsidian
Black obsidian boasts a variety of healing and relaxing properties. Made from naturally forming volcanic glass, this stone is cool to touch. It is known to absorb negative energies and neutralise it which makes it a grounding stone. If you've got acne prone skin, this might be the stone for you as it helps draw out infections and toxins.
Use it with purifying oils like tea tree or rosemary. Never use facial tools on active acne as it can irritate it further.
Amethyst 
Amethyst has been known to have cleansing properties which helps relieve the skin of toxins and excessive oil production. If you are someone that struggles with acne prone skin, an amethyst roller is just what you need. It can soothe irritated skin by reducing inflammation, a god-send if you are someone that struggles with adult acne. Regularly rubbing an amethyst roller or gua sha on your face can help tighten the skin. 
Best used with Tea tree oil for its antimicrobial, antiseptic, and anti-inflammatory properties making it a great tool for combating acne. 
Ice Rollers
Unlike crystal tools, these rollers are filled with water or gel. Using an ice roller on the face has plenty of benefits. Rubbing an ice roller on your face can alleviate headaches, improve absorption of your favourite skincare products, soothe the skin, reduce irritation, inflammation and more. 
Pair your ice roller with Rosemary oil for skin tightening benefits or with Hyaluronic acid serums to load up on hydration. 
So if you've ever found yourself curious and wondering, "Do skincare tools really work?" try them out for yourself and let us know the results!